The third Blood Sentinel encountered in Infinity Blade II is an Exo-Pilot. He wears the EXO Helm and EXO Armor. Instead of being Deathless, he is mortal, and does not care about the Deathless, his duty is to uphold the great pact, and defend this tower from all who would violate it. Siris does not directly fight him, but fights his machine, the MX-Goliath, instead. During the first encounter, you meet him at level 100.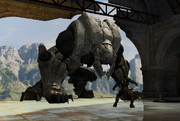 Ad blocker interference detected!
Wikia is a free-to-use site that makes money from advertising. We have a modified experience for viewers using ad blockers

Wikia is not accessible if you've made further modifications. Remove the custom ad blocker rule(s) and the page will load as expected.