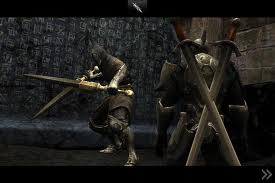 The Blood Sentinels, encountered in Infinity Blade II, are enemies that must be defeated in order to advance the storyline. To fight all of them successfully requires knowledge of fighting three of four enemy types (large enemy, giant enemy, and monstrosity).  When all three blood sentinels are killed and their seals are unlocked, the path to the Vault of Tears is opened.
There are three blood sentinels:
Archivist (blood sentinel 1, level 50 on first encounter) who guards the Triangle Seal.
Stone Demon (blood sentinel 2, level 75 on first encounter) who guards the Circle Seal.
MX-Goliath (blood sentinel 3, level 100 on first encounter) who guards the Square Seal.
If a blood sentinel defeats Siris, that rebirth is ended and a new one begins. This can be avoided by closing Infinity Blade II from the task bar. If a blood sentinel is defeated, Siris places his arm in the seal that the sentinel guarded, unlocking it. This process also kills Siris and begins a new Rebirth.
Ad blocker interference detected!
Wikia is a free-to-use site that makes money from advertising. We have a modified experience for viewers using ad blockers

Wikia is not accessible if you've made further modifications. Remove the custom ad blocker rule(s) and the page will load as expected.