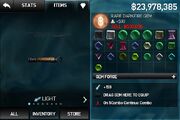 The Rare Darkfire Gem is a square gem created by fusing together rare Shock, Poison, and Wind attack gems. Like the rare spectrum gem, it grants +500 spectrum attack, but the combined cost of the nine gems needed to forge is $9,000,000 (the combined sell value being $4,500,000).
Recipe
Forge together three +400 shock attack gems
Forge together three +400 poison attack gems
Forge together three +400 wind attack gems
You should now have three +500 rare elemental attack gems. Forge them together in this order: Shock - Poison - Wind
Notes
When used in a solar transport energy blade, the beam looks similar to the wind element, but with hints of dark.
If  3 Darkfire Gems are forged, the result is a Rare Darkfire Gem with +1000 damage, or 10000 damage on a solar-trans blade. The forging of the resulting plus +1000 gem with two subsequent +500 gems results in  another +250 per forge (eg. 1000+500+500 >> 1250).
It will not work if the shock, poison and wind gems are not rare. If so, the end gem will not be a Darkfire. 
Both the Rare Spectrum Gem and the Rare Darkfire gem have a 10% successful effectiveness against bosses. The solar transport energy blades pin this perfectly, rendering them very effective against the deathless for +1000 spectrum or darkfire gems.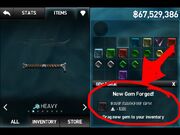 If it is put in a normal weapon, the color of the slahes is yellow and blue. When it stabs, it has the Infinity Blade's stab animation. For All Fans.