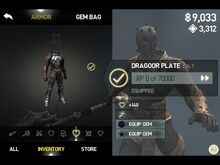 Information
Edit
The Dragoor Plate is a set of Armor in Infinity Blade III. It is used by Siris. It is found after Dragoor is defeated in the Nafusaan mountains Interlude. It starts out at level 6, and has a health stat of 120, a dodge stat of 6, a circle gem slot, and a star gem slot.
Like the Dragoor Bane, this armor resembles the one Hiccup wears in How to Train Your Dragon 2.
Ad blocker interference detected!
Wikia is a free-to-use site that makes money from advertising. We have a modified experience for viewers using ad blockers

Wikia is not accessible if you've made further modifications. Remove the custom ad blocker rule(s) and the page will load as expected.