Guides
Talk

0
774pages on
this wiki
For a list of all guides, see Category:Guides.
This page lists certain guides on the wiki. For information on adding a guide to this page, see the guide policy.
Infinity Blade II
Basic play
Expert Game Guide  by Crazywarfire

view
==Introduction==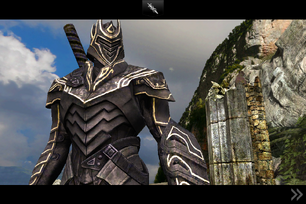 The creation of this page is solely meant for helping you get through the Infinity Blade 2 game. This comes from an expert who know a lot about this game and it's functions. This page should answer most of your questions and if it does not, contact admin Crazywarfire for more help or writing it down in the comments section. You should also be aware that this page contains little to no spoilers. this page will update regularly due to time constraints.
Starting out/The basics
The beginning of the game gives you a very basic tutorial about how to play. You should be able to fly through this part as almost everything is provided for you. Once this part is finished you will lose everything and have to start over with the worst armor and weapons. I strongly recommend that you look very carefully at your surroundings for gold, health potions, and/or keys to unlock certain chest. (More on that later in this page.)
Character customization
In the first Infinity Blade, you had a very wide variety of weapons, armor, helmets, rings and shields to customize your character with. In this game however, you are playing as one person instead if the son of some guy who died and just happened to give their son their armor and weapons after death. (You learn about that in the story.) So at first you will notice you can change the name of your character but your name you chose does not reflect it in actual dialogue and you are still known as Siris in the game. You have much more customization options and you have different sets of armor. You may also chose to have a different fighting style instead of simple sword and shield. (More on those in he next section.)
Fighting styles
There are three known styles, regular sword and shield, dual wielding, and heavy weapons. I personally prefer the first two but it doesn't matter. If you have played the first game, then there is nothing else you really need to know about sword and shield style. Dual wielding is something that takes little time to master. The shield is replaced by a duck button and everything else is normal albeit the combo system which allows you to do even more heavy attacks. Be warned, dual wielding weapons trades damage for speed. I have had problems with heavy weapons and I don't tend to use them unless I am doing a hard clash mob. This trades speed for excessive amounts of damage. You may even notice some of the heavy weapons having more damage then the Infnity Blade itself. Stabbing is replaced by a huge powerful slash that depends how well you preform your combo and blocking is much different. For example, if you were to dodge right to evade a right attack, you would have to block right to block a right attack. This does take some practice. Something I find really interesting, (This probably doesn't have much to do with the actually section itself.) is if you use dual wield, you appear to be ambidextrous however, in the curt screens you are simply right handed.
(More coming soon.)
NewGame+ Guide  by Silversabeast

view
Silversabeasts's NewGame+ Guide For Infinity Blade II

Hello guys, this is my master NG+ guide for infinity blade 2! I hope you enjoy this guide and I hope it helps you on your quest through NG+!

I have been playing almost exclusively in NG ever since I had the ability to, and have reached level 3,000, so I should be able to give you a bunch of useful pointers!



Section One: Explanation And A Couple Basics
1A: What Is NewGame+?
NewGame+ (Commonly abbreviated "NG") is one of the two main game modes in Infinity Blade 2. (it also exists in the first game, but thats a different game)
The purpose of the game mode is to infinitely level your character, and I mean infinitely. There is no limit to how far you can go. This is the main allure of NG. Want to have 20,000 attack points on your base character? You can.
Now how do you infinitely level? Well when you start NG for the first time (how to do so comes in a little bit) you lose all your items. EVERYTHING is gone except your base stats and IAP gold. Although your original game slot will still be available to play, so go back to that if you want to use your stuff.
When you lose your stuff it becomes available to remaster, which means you can level more than you can in the original game. In the first NG you can only remaster items once, but you can go into more NG's to open up more mastery levels of all the items.
1B: How To Enter NewGame+
This is pretty simple but still hard to find. Chair doesn't really explain this well. Once you beat the god king (raidriar) NG+ is available. Finding the option is the tough part. So once you beat the GK, simply go into the options menu (gear in the pause menu)>character slots>and there should be a NG+ button right under your original slot.
Before you tap this button make sure you are ready. NG is tough if your character isn't leveled a little. Once you tap the button your original stats are copied and pasted into your NG slot, so if you want to level a little more and build some power, don't press the button yet. My recommendation is that you reach level 60 or higher before you enter NG, unless you are experienced.
Once you beat the first NG (by killing the GK) A new one will start, rinse and repeat. You can keep going forever.
Section Two: Leveling, Gaining Gold, And Grinding
I want to get this section out of the way now because it applies to almost everything I say in the following sections, and is the most important and useful one.
These are the three main skills you need to have in NewGame+. Leveling is a little more prominent but gaining gold can be used for levels, so it applies as well. Grinding is how to balance the two effectively.
2A: Leveling
There are a couple things that will increase your leveling speed.
- XP+ Gems: There are two kinds. The rare XP gem that awards 1,000 XP per hit (made by forging three rainbow defense gems, and colored orange with a hexagonal shape) which is only practical early on in the game, And the real useful ones; The green hexagonal ones. These are the most useful gems in NG. They increase your XP intake by a set amount, which is capped at 125%. The most you can equip at a time is 2, (by using a paga circle/iridix/gem circle coupled with an armor with a hex slot) which means if you have 2 XP+ 125% gems you can increase your XP intake by 2.5 times. (250%)
- Killing Ryth: This enemy was introduced in 1.3, and he remains one of my favorite to fight. He gives out TONS of XP, especially if you have 2 +125% XP gems and equip an XP potion. He gives me about 7-8 levels if I meet all this criteria, and will still give out a ton of XP if I don't. (Please note that other bosses give a lot of XP, (like the skycages bosses) but Ryth gives the most)
- Don't Get Lazy: Keeping your NG number low to make enemies easier will slow down your leveling a lot. As you keep leveling up the XP bar keeps requiring more and more XP to fill up, and keeping titans XP drops relatively low will slow you down a lot.
- Spend All Your Money At The End Of An NG: Once you beat the GK and are about to enter a new NG, it's a good time to spend all that unused cash to master items for more XP. Since you lose all your non-IAP gold once you end an NG, there is no reason to waste your money by not spending it. Sell everything you can for more cash; Gems, equipment, everything. This will obviously get more money for you, allowing for more mastering and subsequently, leveling.
2B: Gaining Gold.
There are a few ways to increase gold intake.
- Gold+ Gems: Like XP+ gems, these increase the quality of gold drops by a set percentage. (capped at 37%) These are also hexagonal in shape as well, so you can still only equip two at a time, meaning the true cap is +74%. These are most useful when opening chests, and more specifically, large chests. If a large key costs 1 million gold, you should get about 2 million out of the chest provided you have 2 gold+ gems equipped.
Like XP gems, these also have two types. The other gold+ gem increases the chance that drops from chests and enemies will be gold by a set percentage (capped at 400%) these gems are diamond shaped, so you may equip them alongside gold gems.
- Treasure Maps: These don't ALL help you, but some do. Some give large keys, which are incredibly useful. The ones that help you are below: (credit to tukeykramer)
a. Key Treasure Map: This map gives out not one, not two, but three keys! Large, medium, and small in that order. This map is obtained in the store for just 8,000, and is well worth it. The location is on top of thanes tower. Just look to the right and tap the pillar. This map gives a large key on thane V1, a medium when its a normal titan up there, and a small key when thane V2 is up there.
b. Old Treasure Map: This map gives out a large key. It is obtained randomly and the location is right outside the castle to the right of the entrance. (on the ledge)
c. Etched Map: This map is obtained through a small chest, and its location is in the archivist room. Once you beat the enemy right before the archivist look all the way to the right. It is on the stone slab leaning against the wall.
- Opening Chests: I mentioned this in the gold gem section, but it's worth mentioning again. Chests make you huge amounts of money if you have the right things equipped. (gold+ gems, gold drop+ gems)
Obviously you will need keys to open chests, so here is a guide for where to find keys (by ruggedland)
Here is a list of places (or occasions) where one can get a key 100% of the time in each NG:
- RB1. Small key from the chest after killing the first enemy (Horned Wilding). - RB1. Thane V1. Medium key near the chair to the left of Thane. (not obvious at all, thanks to the forum for the tip) - Any RB. Small key to the right of Archivest (found mid-way through the cut scene prior to the fight). - Any RB. Medium Key drop after killing "the Beast" in the arena for the 1st time. - Any RB, Large key from killing MX-Goliath. - Use Key treasure map, get a key each time you go to top of the Thane tower (look and click to your right). Large key for the first time, medium second, and small key third.

Here are the additional places/occasions where a key can also be found (and the approximate chance)
- In the beginning of any RB. Small key lying on the ground near the lower-left corner of the screen. <10% - Any RB. Small key from the chest near the castle gate after killing the second enemy. 10-20%. - Any RB. Small key lying on the ground near the chest to your left before or after killing the second enemy. <10% - Any RB. Key drop after killing the second enemy near the castle gate. I have gotten small, medium, and even one large key (after killing Fel Siren). Very rare. <5% - The side entry in the plaza (where the enemy drops down from a hole). One can get a small key from either key drop or the chest. 10-20% - Any RB. In the Library hallway. Lying on top of the railing to your right. 10% - Any RB, The chest to the right after entering the open arena. 10%
2C: Grinding.
This is a combination of XP gain and gold gain and how to balance the two effectively
The first thing you should know is that you should have two "sets" of equipment ready for use. An "XP" set loaded up with XP gems and mostly unmastered equipment (if your paga circle, iridix, or gem circle is maxed out it's still best to use it rather than switching to a ring without a hex slot), and a "chest" set loaded with gold+ and gold drop+ gems. Use the XP set for all your fights, while using the chest set when you open chests. (surprise, surprise) This balance ensures the optimal XP/Gold balance.
The next thing you should know is what path you should take around the castle in your "rest" NG's. (these are the ones you spend significantly more than 5 RB's in) Of course you should still kill all the blood sentinels before starting this path. Once they are all dead, you can start this path:
1. Go straight to the courtyard. (dragon statue) 2. Go into the library. 3. Once at the end of the library, go right into the archivist room. 4. Open the large chest in the archivist room. 5. Once out on the "patio," go into the hallway leading to the MX-G hangar 6. Open the large chest in the MX-G hangar. 7. Beat Thane on top of his tower. 8. Go down to where the worker of secrets is imprisoned and open the large chest there. 9. Let Thane kill you to end the RB. 10. rinse and repeat.
This path gives you the best XP/Gold/Time ratio. Other paths may give you more XP per rebirth, but this path will give you much more XP per hour than those paths. There are a couple diversions you can make on this path to make it a little better:
1. Go into the valley at the beginning of the RB. 2. Go to the right in the courtyard, then come back out and continue as normal.
These diversion may offer you a little more XP, but just a little more. Take them if you like, or not. They don't offer too much of a difference.
Section Three: Beginning Your Quest In NewGame+
3A: How To Start Off NewGame+ The Right Way
A lot of players are turned off to NG because they think it's too slow. While it's certainly fine for people to prefer and play the original game mode, I want to make sure they see the full awesomeness of NG before they call it quits.
So how should you play NG? I'm about to tell you.
When you start NG you begin in Saydhi's garden. Just like the original game. But this time you only have the starting equipment. (you also get the starting dual and heavy weapons)
For Saydhi's garden, just fight normally. Get through as fast as possible. After that, well that is where the real stuff begins.
Once you enter the castle, beat the blood sentinels as fast as possible. Then relax in your NG just building power (how to do so effectively comes later) and having fun of course.
3B: The First Two/Three NG's.
These you should take very slow. If you don't, you will hit a wall of difficulty and likely quit NG without realizing its full potential. The first two or three spend at least 10-20 RB's in each one. This will build power and keep you interested.
Remember to follow the path I outlined above and get some XP/gold gems and start grinding away.
3C: After The First NG's.
Now what to do after the first two/three NG's? Well you will most likely want to start rushing some NG's. In these try to finish everything as fast as possible. You can actually complete these in just 4 RB's by using a little trick. on the second RB, kill the stone demon. After killing him you will see siris about to stick his arm in the sacrifice stone. Exit the game before he does this and close it from the multitask bar. Re-open the game and you can continue the rebirth up to the MX-Goliath!
After about three of these rush NG's you can slow down and start grinding again for one NG. Rinse and repeat. As you continue this process of rushing/resting, remember to continue to increase the number of rush NG's you do before you have a rest NG. This will ensure you continue to level effectively.
Section 4: Equipment.
What is the best equipment to use in NG? Well that is kind of subjective; master the next item available. But there are a set of items that have the most XP and have a hexagon slot for gems. This set is the gem set. The set of armor obtained by entering negative rebirths. Remember if you started your NG before obtaining these items, they will not be available in NG.
If you want to obtain these items in NG you must get them in your original game and then start NG. If you want a video tutorial on how to enter negative rebirths just click here.
These items have tons of XP and the ring has a hexagonal gem slot. They are perfect for NG.
But mainly you should just master whatever is next. Except for rings. Always use one of the rings that has a hex slot if you have another XP gem to place in it. Even if its mastered it is still worth it in terms of XP gain.
Section 5: Allocating Stat Points.
This really depends on the weapon class you use, so it's hard to give a definitive answer to this, but here is an outline for each weapon class and a few bonus ones.
Dual: 90% into attack, 10% into health. (nothing in magic/shield)
Light: 80% into attack, 10% into health, 10% into shield. (nothing in magic)
Heavy: 60% into attack, 20% into health, 20% into shield. (nothing in magic)
All Three: 60% into attack, 30% into health, 10% into shield. (nothing in magic)
Attack Only: As you can probably tell from the title, 100% into attack (this works best with dual) This is the one I use as well, as I barely ever use light/heavy.
Section 6: How To Avoid Boredom.
Even though I LOVE NewGame+, I will be the first to admit it can get extremely boring early on. Once you break that first stage of boredom you should be fine, but here are a few tips to help you in case you can't shake the boredom.
- Randomly reallocate your stats once in a while, this will spice up the game.
- Change weapon classes sometimes. Although I don't get bored with dual, some people may. Change to another weapon class for a bit to stop the boredom assault.
These tips should help you avoid boredom, but I'm sure you have your own for stopping it. Share them in this thread for all to see!
Section 7: Thanks To Contributors!
I just want to take a minute to thank everyone who has contributed to the production of this guide for newgame+
NiiLoc ericmurphy gr00veholmes ruggedland tukeykramer Vile Majesty
I know there are others, please tell me if I missed someone!
A Few Last Words:
This game mode, like any other game mode is meant for fun. If playing like I have showed here isn't fun for you, then don't play that way. This is simply an outline for what I have found to be very helpful in NG, and you may play very differently and not want to follow this outline. Play how you want and don't let anyone else tell you differently.
---
Have fun!
Basic Info on NewGame+  by GXsnipe50

edit

 · 

view
Hey Guys/Girls, I have decided to write a Article to help people understand what a NewGame+ is and what it truly entails.
- How to Start a NewGame+
This is quite simple really, press the menu button on the top middle of the screen, instead of pressing the character button hit the little gear. Here you should find an option that says "Character Slots". Now if you have beaten Raidriar the option for a new game plus should be under your Character.
-Fear Not
When you start a NewGame+ your actual profile pre-NG+ will still be there, You can load it at the same place you started your NG+.
- Key Things to Know About NewGame+
-When you start a NG+ all of your money and Items are forfeit, you will no longer have them and you must work your way back up to where you were before. (The exception for this being any money you bought via the appstore).
- Everytime you beat Raidriar Your next NG+ is automatically intiated so be careful
-With each NG+ you are allowed to master an item one more time for a higher amount of XP, this being said you could theoretically beat Raidriar 40 times rather quickly not mastering upper tier items like the Seratic Armor or the Infinity Blade, however when you would reach them you would be able to master one of those items 40 times in a row
- Enemies become much more difficult and will tend to use more moves that you cannot parry, therefore it would be best to either invest in shield or play the dual wielding style more often.
-Money becomes much more scarce in this, fortunately clashmob often has prizes that involve money or higher end items. However if you do not use clashmob it is entirely possible to play NG+ just fine, you simply need to play more moneywise.
-If you are caught in a situation where you accidently beat Thane and you aren't satisfied with your current level/gear masteries beat all of Raidriars minions and then throw the match with Raidriar, it is a slow way to level up but it will help you in the long run.
-After your first NG+ The Omega OS -7 Armor set will be available to the player (it's pretty fantastic)
Well that's it folks, If you want actual tips on level grinding/gold grinding check out Silversabeast's NewGame+ Guide.
for this page, remember this isn't a game guide this is for people who don't fully understand what NG+ entails
Miscellaneous
Achievement Guide  by Hooligunn

view
Tips and Tricks for Game Center Achievements:
For tips on other Infinity Blade II skills, check out the Infinity Blade II Game Guide.
The Combinator
Perform 2,000 Combo Attacks
A combo attack is triggered by a combination of directions for both the Standard and Dual Wielders – a good example is to swipe right, then left and then right again. For Heavy Weapons, simply swipe twice in the same direction and copy the third swipe direction on screen to pull off a combo. By far the quickest way to unlock this achievement is using the Dual Wield setup – as soon as you open an opponent up to attack, swipe right, then left and then right again. This combo makes you attack with both weapons at the same time, and each hit counts as a combo attack!
Sting Like a Bee
Perform 100 Stab Attacks
This one is incredibly easy if you know how – both the Standard and Dual Wield setups will be able to stab an opponent after a perfect parry break or after using a super. The quickest way to unlock this is with the Dual Wield setup – simply super your opponent and tap the points on screen as quickly as you can, earning you between 7-10 stabs on average every time. Easy!
Non si capisce una mazza
Perfect Duelist
Win a Fight using Sword and Shield without Taking Damage
This one is simple if you use patience, and is fairly easy to unlock against any enemy type. Take full advantage of your shield and save a Super attack for a fight. Once you have, block until your first block break and do as much damage as possible. Once they break out of the attack, quickly activate your Super and go to town, hopefully defeating them in the process. If they have a tiny amount of health yet, don't forget to quickly use your offensive magic to finish them off risk free.
Perfect Fencer
Win a Fight using Dual Weapons without Taking Damage
As with the above, make sure to save a Super attack before you go into a fight. For this, I recommend waiting for a slower larger titan that has easy to read moves and plenty of reaction time. This one is a little more difficult because you can only dodge rather than block, so it comes down to your parrying or dodging abilities, and reading the movements of your enemy. Once you've got one group of attacks in, simply activate your super quickly and finish them off.Use a blade as per situation.
Perfect Thug
Win a Fight using Heavy Weapons without Taking Damage
Thankfully, the Heavy Weapon class does so much damage that, on certain enemies, this can be a cakewalk. Once you feel you've acquired a Heavy Weapon that does very high levels of damage on the current enemies you've been facing, simply save a Super for a fight and activate it at the start – nail the three slash chances at the start for some massive damage and then finish them off before they become conscious again. Be wary though – make sure to pick an earlier enemy with lower health and defence than one of the larger, tougher titans later into the prison that may not go down so easily.
Can't Touch This
Execute 1,000 Perfect Blocks
A perfect block can be achieved by tapping the block button literally as the blow is about to hit your character – always watch the momentum of the attack coming towards you, and tap the block button just as you think you're about to be hit. By learning the speed and rhythm of certain attacks, it becomes easier and easier to time this correctly. The quickest way to earn this achievement is to use the Sword and Shield combination, which only requires you to block in a single direction allowing you to focus purely on timing (unlike the Heavy Weapon setup which blocks directionally).
Perfect Timing
Execute 1,000 Great Parries
Unlike Can't Touch This, this achievement only requires you to only execute Great parries rather than perfect ones. For this achievement, use Dual Weapons or the Sword and Shield as these setups have much faster reaction times on parries. To achieve a Great Parry, you are looking to parry as the attack swings closer towards you rather than waiting till the last second like you did for Perfect Blocking – a good reference is about a sword length from either side of your character. Also make sure your swipe is right in line with the direction of the Titan's attack.
Perfect Aim
Execute 1,000 Perfect Slashes
A slash attack is the directional arrow attack that is only usable by Heavy Weapons. Slashes can be triggered by parry opening an opponent to attack, slicing twice in the same direction whilst attacking, or by using a Super attack (which offers up to three in a row if you swipe correctly). Once the directional arrow appears, swipe your finger exactly inside the arrow's direction – if you swipe too far, you'll only achieve a Great rather than a Perfect, so make sure to be fast but accurate. The best advice possible for achieving Perfect Slashes is to know when one is coming up – learn what makes a Slash appear, and then be ready to follow the directional swipe once it appears.
Key Guide  by Dzylon

view
This guide aims to show where every key in the game can be found. The listing is currently incomplete. Keys are generated randomly. Some of these keys may appear in a Rebirth, while others will not.
Note: Click on an image to enlarge it.
Large/Medium Keys
Image
Description
A small or medium key can sometimes be found to the immediate left of Thane's chair.
You can purchase the Key Treasure Map in the shop, which unlocks the ability to tap the iron cross on the structure at the top of the tower, to the immediate right of the entrance. Either a small, medium, or large key can be obtained on three separate occasions:

First Thane encounter.
Random enemy encounter afterwards.
Second Thane encounter.
Small Keys
| Image | Description |
| --- | --- |
| | This key is found in the first scene encountered in a new Rebirth, to the immediate left of Siris. |
| | This key is also found in the first area, on the far right of the screen, next to the broken pillar. |
| | A key can sometimes be found on a rock to the right, in between two pillars. |
| | This key is found in the first scene as well, on a raised area to the left. |
| | After passing over the broken bridge in front of the castle, you can find this key to the extreme left of the screen. |
| | This key can be found by some rubble in front of the castle. |
| | This key is found just inside the castle, to the right of the entrance. |
| | At the top left of the same room, a key is sometimes hidden on the edge of a torch container. |
| | A key sometimes appears inside the courtyard, to the right of the statue. |
| | A key can also be found at the base of the stairs leading to a room with a chest. |
| | In the same area, a key may be found immediately to the left of the entrance. It is only visible during a few short cutscenes. |
| | In the same area, a key can be found just beside the statue. It is only visible during a few short cutscenes. |
| | This key is found in the first area of the room with the clock, on a rail post to the right. |
| | A key may be shown during the conversation with The Archivist, just before battle. |
| | A key can be found in the room leading to the top of the tower. |
| | You can find this key on a side panel in the hallway just before the room containing MX-GOLIATH. |
| | This key can be found on top of a generator-like device in the MX-GOLIATH room. |
Infinity Blade I
Basic play
Grinding Tips  by SilentMind

view
Grinding
Grinding (verb) : a term used in video gaming to describe the process of engaging in repetitive and/or non-entertaining gameplay in order to gain access to other features within the game, or to allow the player to "grind" better/faster.[1]
Experience
There are several notable ways to grind experience, such as simply playing through the game, or loop grinding.
Loop Grind 1
When you get to the second-to-last room in the castle (where you're standing in a circular room, with a large pit in the center), you have the option of participating in a loop; clicking the center of the pit will cause a large enemy to come down on a elevator. Once you defeat this enemy, you will be closer to the edge of this pit, looking slightly down. Here you have three choices; open the chest, go down into the pit, or go up the elevator. Open the chest, then choose to go down into the pit. You'll come to an area with a small grey, almost obelisk structure in the center of the room, with many doors surrounding it. Clicking on the obelisk will cause the character to walk up to it. If you have the Infinity Blade, it will act as a key and unlock all the doors in the room; if not, the character will turn around. You'll want to select the option to go back up the stairs, and an enemy will drop down once you do so, blocking your upward progress. Defeating that enemy will cause you to return to the first step of this loop; from here, you can click the pit, causing a new large enemy on the elevator to come down again. Defeating this will open up the option to go back down into the pit. Simply rinsing and repeating will yield large amounts of experience, but can get tedious.
Loop Grind 2
An alternate way (and a less annoying way, in some people's opinions) to loop grind is to choose the option to go up the elevator once you've defeated the larger enemy. Doing so will bring you face-to-face with the Dark Knight, the enemy before the God-King. If you lose to him intentionally, you will be given the option to 'Save and Restart Castle.' Choosing this will cause you to go back to the start of the castle, but all of the experience, gold, items, or potions you acquired on the last trip will still be with you. Simply repeating this process over and over can be very rewarding in terms of experience and gold.
Exceptions / Notes
If you have the Infinity Blade, doing the first grinding method will take significantly longer because of the animations of the doors opening. As such, the second loop is highly recommended.
Gold
From the start of making a new playable character, the player should start fighting enemies as quickly as possible, fast forwarding through the in-between time to reduce the downtime. Save up 10400g, and the player can buy the Legion helm; it gives both +6 to Shield and Gold+++, making it a staple in gold grinding.
Sources