The Helio Set is an equipment set found in Infinity Blade I and II. The set is worn by Raidriar. The armor he wears in Infinity Blade II was also added to the game in the Skycages update (except for Epsilon).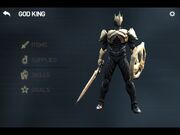 Original Set
Edit
These are the items equipped by Raidriar in Infinity Blade I. The following items are all included in the original Helio set.
Extended Set
Edit
This equipment is all worn by Raidriar in Infinity Blade II, and considered part of the extended Helio set. Raidriar also wears this set in Infinity Blade III, but cannot be bought in the store.