Hexan is a shield found in Infinity Blade II. It can be purchased in the store for

128,200. It adds 70 points to the shield stat and can be configured with one diamond gem.
The "Praetorian Guard" found in the description was a real-life force of bodyguards in the Roman Empire.
Hexan is the only item to feature the Infinity Blade logo.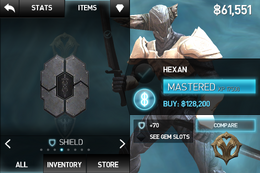 Ad blocker interference detected!
Wikia is a free-to-use site that makes money from advertising. We have a modified experience for viewers using ad blockers

Wikia is not accessible if you've made further modifications. Remove the custom ad blocker rule(s) and the page will load as expected.