No! The God King defeated this Article!

This article is a stub. You can help Infinity Blade Wiki by expanding it.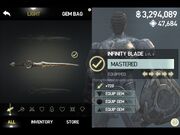 Infinity Blade (not to be confused with The Infinity Blade) is a light weapon that can be equipped by both Siris and Isa. It is found in Infinity Blade III. It is obtained in the Stockpile after reaching the bottom level of the area where the Vault is located.You will then be attacked by an enemy when you try to go inside. After you defeat the enemy, you can access the chamber. However, you need to have all the other Infinity Weapons in your inventory. After placing all weapons on their corresponding slots, the Infinity Blade will appear, suspended in mid-air, Siris or Isa will then lift it into the air like any weapon gained from the collector. The weapon can be used by both Siris and Isa. The classic Infinity Blades are mastered, upgraded, and equipped with gems separately for Siris and Isa.
Infinity Blade has a starting level of level 6 and has an attack of 720. It also has a triangle gem, a circle gem and a light weapon gem slot.
It is unknown whether this Infinity Blade is part of the King set.
Because the weapons are seperate for each character, you can lose one to The Collector, and still have it on the other character.
After Raidriar's failed battle with the Worker, the original classic Infinity Blade was returned to the Vault in the Seccian Desert by the Worker.
This Infinity Blade is the same strength as the modern one, but simply starts out at a higher level.
Siris' Infinity Blade and Isa's Infinity Blade are separate weapons, meaning that any equipped gems or upgrades for Siris' will not be equipped for Isa.
"Infinity" means death in Pangean.
You can use the Infinity Blade for (kind of) a bug. If you face The Collector with it and lose the fight, then earn it again by defeating him, you get the Infinity Blade for Siris AND Isa, which means you can get a lot of money by selling the double ones.