No! The God King defeated this Article!

This article is a stub. You can help Infinity Blade Wiki by expanding it.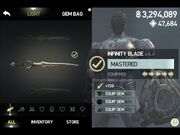 Infinity Blade (not to be confused with The Infinity Blade) is a light weapon that can be equipped by both Siris and Isa. It is obtained in the Stockpile after reaching the bottom level of the area where the Vault is located.You will then be attacked by an enemy when you try to go inside. After you defeat the enemy, you can access the chamber. However, you need to have obtained all the other Infinity Weapons.
The Infinity Blade has a starting level of level 6 and has an attack of 720.
It is unknown whether this Infinity Blade is part of the King set.
After Raidriar's failed battle with the Worker, the original classic Infinity Blade was returned to the Vault in the Seccian Desert by The Worker.
This Infinity Blade is known to be weaker than the modernized one when modernized copy is upgraded to level six.
Siris' Original IB and Isa's are individual, mean that any equipped gems or upgrades for Siris' will not be equipped for Isa.