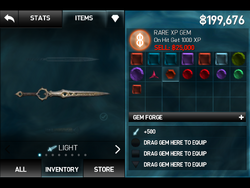 The Rare XP Gem is a hexagon gem that grants 1,000 XP on every hit. It is created by forging three rare defense gems together, or through the Tomb of the Vile map which can be bought for 1,000 battle chips in Infinity Blade III. It is sold for

25,000. It is the only hexagon gem with a dark red color. This gem is best used to quickly master items because it's relatively affordable.
Ad blocker interference detected!
Wikia is a free-to-use site that makes money from advertising. We have a modified experience for viewers using ad blockers

Wikia is not accessible if you've made further modifications. Remove the custom ad blocker rule(s) and the page will load as expected.