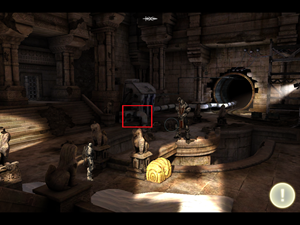 A map found in Infinity Blade 3.
Soiled Map can be obtained in the Supplies menu for 450 chips.
The treasure can be found in Chapter 2 or Interlude - The Stockpile. Inside the first room, tap on the grey pipe at its corner which leads into the hole to obtain Isa's ring, the Turquoise Band.
Ad blocker interference detected!
Wikia is a free-to-use site that makes money from advertising. We have a modified experience for viewers using ad blockers

Wikia is not accessible if you've made further modifications. Remove the custom ad blocker rule(s) and the page will load as expected.