"Tell me, Hero... what do you call yourself?"

This article is a stub. You can help Infinity Blade Wiki by expanding it.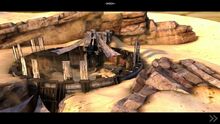 The Pit is a location in Infinity Blade III where Siris's part of Act III: The Right Weapon takes place along with the Arena. It is the amphitheater of Therin, the Killer of Dreams. At the time Siris arrived, the Gemcutter was employed by Therin to be the "ticket vendor". After Therin is killed, Siris offers the Gemcutter a chance to join his cause, but he declines the offer. After the level has been completed you can play The Pit in arena mode for increasing rewards.
Ad blocker interference detected!
Wikia is a free-to-use site that makes money from advertising. We have a modified experience for viewers using ad blockers

Wikia is not accessible if you've made further modifications. Remove the custom ad blocker rule(s) and the page will load as expected.