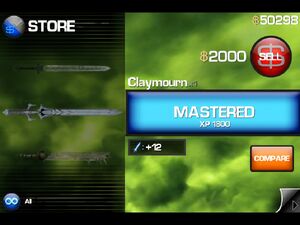 Infinity Blade I
Edit
The Store can be accessed at any time during the game unless the player is in combat. The Store is where players will sell and buy weapons and other equipment with gold, which can obtained through fighting enemies and obtaining moneybags by fniding them or opening chests.
Most items selling price increase after the item has been mastered, so it would beneficial to sell the item after you have mastered it. A Mastered item does not go up in value when Mastered again in NewGame+.
Only nine items are hidden. Three (Dragoor Blade, Dragoor Scale and Dragoor Bone) are loot from defeating the Deathless that will appear in the Store in a NewGame+ or for a brief time after they are sold to the Store itself. The other six items (Dark Fusion, Dark X-SC2, Dark Halo, Dark Omega XOS-7, Dark Tempest) will appear in the store after a NewGame+ is started.
Various amounts of gold can also be purchased through In-App Purchases.
The Store is the only way to obtain the Infinity Blade and NewGame+ items except on the rare occasion when the god king drops the Infinity Blade.
Ad blocker interference detected!
Wikia is a free-to-use site that makes money from advertising. We have a modified experience for viewers using ad blockers

Wikia is not accessible if you've made further modifications. Remove the custom ad blocker rule(s) and the page will load as expected.