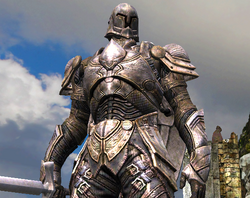 The Worn set is an equipment set automatically equipped after the Infinity Blade II tutorial. It is composed of the following items:
A "dark" version of the Worn set called the Gem set exists in the negative bloodlines.
In Infinity Blade III, the Worn set is known as the Steel Plate set.
Ad blocker interference detected!
Wikia is a free-to-use site that makes money from advertising. We have a modified experience for viewers using ad blockers

Wikia is not accessible if you've made further modifications. Remove the custom ad blocker rule(s) and the page will load as expected.